M&S Travel Money: Rates and Bureau de Change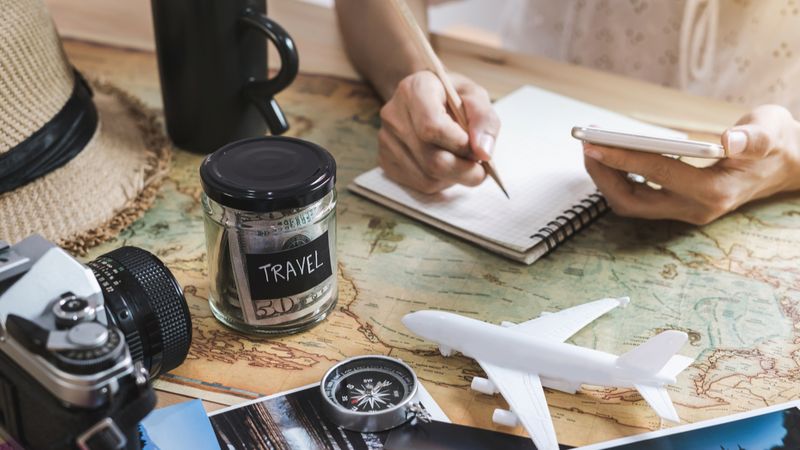 This guide walks through all you need to know about Marks and Spencer (M&S) travel money, including rates, fees and availability. We'll also cover how the Wise account can help you spend less on travel money, so you enjoy your trip more.
M&S travel money rate
It's important to know the exchange rate you'll get for your travel money - but rates can be confusing as they change all the time. Some providers, like M&S also offer different rates depending on the specific service you want. Here's an example of the M&S euro exchange rate and the rate you'll get if you're buying US dollars:
| Currency | Same day click & collect rate | Click & Collect regular rate | Bureau rate |
| --- | --- | --- | --- |
| Euros (1GBP=EUR) | 1.086100 | 1.102400 | 1.086100 |
| US dollars (1GBP=USD) | 1.287200 | 1.305900 | 1.287200 |
Exchange rates correct at time of research (25th November 2020)
As you can see, you'll get a better rate if you order in advance using the click & collect service, as long as you're not looking to use the same day option.
However, you'll still need to be wary about the rates on offer, and compare them to the mid-market exchange rate to check if they are the best available for your transaction. We'll take a look at why that is - and a smart way to use Wise (formerly TransferWise) to get more convenient currency exchange for your trip - in just a moment.
Marks and Spencer click and collect
The M&S click and collect service allows you to order currency online and collect it in store at your convenience. You can order euros and US dollars for same day collection, although currencies may take up to 7 working days to be prepared for collection.
If you're planning on using M&S click and collect it's important to note:
You must be aged over 18
You must be a UK resident
Only the person who placed the order can collect it - ID will be required
You'll need to provide the payment card used when ordering when you collect
There's a £10 fee for cancelling an order
Marks and Spencer states there is no fee for having your order prepared through the click and collect service. However, it's worth noting that the exchange rate you're offered for the same day service is poor, compared to the normal click and collect rate. In effect this is an additional fee for the convenience of getting your travel money more quickly.
What are the fees for buying travel money with Marks and Spencer
There's no explicit fee for getting your travel money through M&S. However, that does not mean it's free.
When you buy foreign currency you always need to look at both the upfront fees or commission charges, and the exchange rates being used. It's common for banks and currency providers to use an enticing headline offer - such as zero fee exchange, or 0% commission - but include their costs in the exchange rates they use instead. This means you're still paying a fee - it's just more difficult to see.
Marks and Spencer offers a different exchange rate for the same day click and collect service, compared to the regular click and collect options. The rate you'll get for the more convenient same day pick up is not as good as the normal click and collect rate. That's because an extra charge has been rolled into the rate used to compensate M&S for the extra work of preparing your currency more quickly, and to boost their profits.
To see this in action, compare the different rates offered by M&S travel money against the live mid-market exchange rate for your currency. You may find that both rates vary from the mid-market exchange rate - even the regular click and collect rate. That's likely to be because a markup has been added.
Exchange rate markups matter because they're not transparent. If there's a markup added to the rate used to convert your currency you may be losing out, and paying more fees than you think for your travel money.
Save with Wise when you spend in any currency
The smart way to avoid exchange rate markups is to use low cost currency specialist Wise.
Wise offers customers the real mid-market exchange rate every time, with low, clear and transparent fees.
If you're planning on travelling abroad, you can get a free online Wise account with a linked Mastercard debit card.
Top up your account in pounds and you can then switch to whichever currency you need, using the mid-market exchange rate. Spend for free all over the world using your card, or withdraw local currency from ATMs wherever you are.
You'll be able to withdraw up to the currency equivalent of £200 per month with no fee, and a small percentage charge after that. There's no waiting around for your currency, and you can manage your money from your laptop or mobile device. Simple.
Marks and Spencer travel money products
Let's take a look at the different options available through M&S travel money.
Click & Collect
You can order from £250 to £2,500 in foreign currency online for collection at a branch of your choosing. You'll need to pay by card, and take along your payment card and a government issued ID when you collect your money. It's worth noting that euros and US dollars are available quickly, but some other currencies may take up to 7 working days to prepare.
Same Day click & Collect
If you order before 4pm, you'll be able to pick up euros or US dollars immediately at your local M&S store. However, the exchange rate you'll get won't be as favourable as the regular click and collect rate - it's set the same as the walk-in exchange rate.
Foreign exchange bureaux
You can buy some foreign currency without needing to order in advance, by simply walking into a M&S store which has an exchange bureau. Over 40 currencies are available, although the amounts and currencies available may vary. For this reason it's worth calling in advance if you're looking to buy a lot of travel money or an unusual currency.
Not all Marks and Spencer branches have an exchange bureau, and not all exchange bureaux operate at all times. Look for more information about the branches near you, using the Marks and Spencer online branch finder.
M&S currency buy back
If you end up with extra foreign currency after your trip you can take it back to M&S using their buy back service. You'll need to keep your original receipt to do this, and can only switch notes in denominations M&S sell. Coins won't be accepted, although you can donate unwanted foreign coins to charity via the Marks and Spencer exchange bureaux.
M&S currency buy back rate
The exchange rate offered by M&S for currency buy back is not the same as the exchange rate you'll get for buying currency in the first place. The rate used for buy back will be set by M&S at the time you're switching your money back and may include markups.
Because the exchange rate will change day by day - and because there's a chance of markups being added to the rates used for buy back - you may not get back as much as you expect when you convert your unwanted currency back after your holiday.
M&S travel money Bureau de Change
There are over 100 exchange bureaux in Marks and Spencer stores around the UK. However, not all are open all the time, and services available can vary. Check in advance if you're planning on heading out to an M&S bureau de exchange.
M&S foreign currency London
Different M&S stores offer different travel money services. You'll find you can collect your travel money from a broad range of stores - including some Simply Food outlets - if you order through click and collect. You'll be able to choose the best store to collect from when you order, based on your location.
However if you want to walk into a bureau you'll need to find a Marks and Spencer with an exchange service. At the time of writing, many of the exchange desks are closed due to concerns and restrictions related to the global pandemic. There's an up to date listing of available services over on the M&S website. Call in advance if you want to check your local store is operating normally.
Does M&S offer a travel money card?
Marks and Spencer does not offer a travel money card at this point. If you want a simple way to top up and spend when you travel, check out the Wise account which comes with a linked debit card you can use just like a travel money card.
No matter where you decide to buy your travel money, make sure you compare the available exchange rates - as well as any upfront fees - against other services to make sure you're getting the best available deal.